Sam Balooch is the co-founder of the nutrition & wellness company Helix & Gene. For 20 years Sam's mission in life has been to find out how to get the best out of everyone he meets. In the search to help others achieve their ultimate dreams, he discovered his own purpose.
Dedicating his life to finding a way of achieving Zen has led Sam to the KRIYATION of ZEN57.  Zen57 is not a training system for the body; it is a system that trains the body in order to train the mind by directly stimulating the nervous system.
Part of Sam's philosophy is that you can constantly elevate your state of consciousness, achieving a new state of Zen every day.
His life as a husband, father and a businessman is one he is truly proud of. He credits his positive and progressive mindset to his daily dedication to Zen57 training. To Sam and his family, there's only one path to happiness, and that is: authentically understanding the self and accepting who you are in life.
After 20 years of studying the connection between Science and Spirituality, Sam figured out how to demonstrably integrate the two: through the connection of Body and Mind. 
In Science, when an experiment is conducted, the results must be measurable. But the hypothesis, or the thought, originates from the Spiritual element. 
Sam learned that through repeated combinations of sequential movements and breath work, he was able to trigger a specific neurological response, over and over again, with increasing tangible benefits.
Thus, Zen57 was born.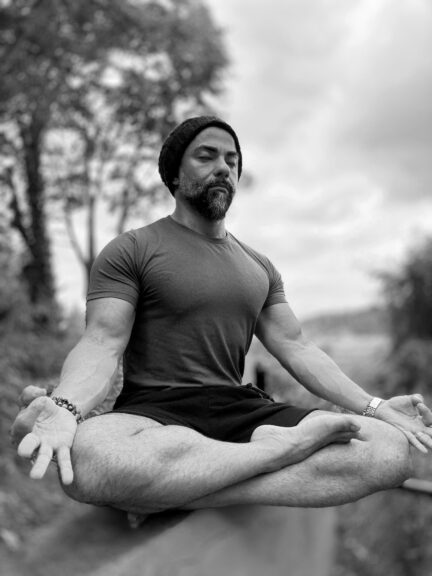 Sam has deeply studied philosophy, yoga, scripture, psychology, anatomy, and kinesiology. He was an elite, championship-level bodybuilder and trainer to other bodybuilders. His knowledge of the body is deep and practical.
He hasn't touched a weight heavier than 3 pounds in over a year, and he is in the best shape of his life right now, with Zen57 as his only daily workout.
"It's taken 20 years of committed daily work, no matter what the circumstances, to achieve this spiritual point of self-mastery. When I say 'achieve', I do not mean that I have hit a pinnacle of spirituality. I have simply opened the door to the true understanding of self."
Sam believes his dedication to understanding others and his unshakable discipline have ultimately led him here, to the point of sharing the Zen57 system with you.
"TRAIN YOUR MIND, CHANGE YOUR BODY"